Eli Zborowski (z"l) Legacy Circle
"I did not find the world desolate when I entered it and as my fathers planted for me before I was born,

so do I plant for those who will come after me"

– Talmud
The American Society for Yad Vashem is pleased to announce the inauguration of the Eli Zborowski (z"l) Legacy Circle. With unwavering support from the ASYV Board and the Zborowski family, ASYV is honored to invite you to join this self-identifying group and create an enduring legacy in support of Yad Vashem, The World Holocaust Remembrance Center.
To become a member of the Eli Zborowski (z"l) Legacy Circle, please reach out to Chris Morton, ASYV Director of Planned Giving. If you or your family member have made a bequest by will, established a charitable remainder or lead trust, made ASYV a beneficiary of life insurance policy or IRA, ASYV will be honored to include you in this group.
As a member of the Eli Zborowski (z"l) Legacy Circle, you will be invited to an exclusive annual donor appreciation event, as well as other ongoing programs of interest as our Legacy Circle grows. Your preferred name for recognition will be displayed prominently in the offices of the American Society for Yad Vashem.
Thank you for considering ASYV in this important and impactful decision.
With any questions, please contact:
Chris Morton
Director of Planned Giving
CMorton@yadvashemusa.org
(212) 220-4304, ext. 213
Eli Zborowski z"l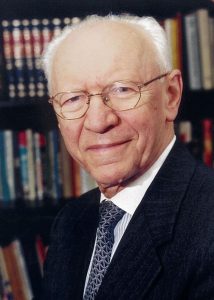 Eli Zborowski was born in Zarki, Poland in September 1925. After the war began in 1939, Eli joined the Jewish underground and served as a courier between the ghettos of western Poland. In 1942, when the Nazis liquidated the ghettos and systematically began to exterminate the Jews, Eli and his family hid in the attic and chicken coop of a Christian family, later recognized as Righteous Among the Nations. His father became separated from the family and was murdered in 1943.
After surviving the war with his remaining family, Eli arrived in Feldafing, a camp for displaced persons in Germany. At this camp, Eli met his future wife and fellow Holocaust survivor, Diana Wilf. They were married in Feldafing in December of 1948 and together moved to the United States in 1952.
Throughout his life, Eli was a dedicated advocate for Holocaust remembrance and education. In 1981, Eli founded and chaired the American and International Societies for Yad Vashem, guiding it to raise over $100 million for the benefit of Yad Vashem, The World Holocaust Remembrance Center in Jerusalem. He established the Diana and Eli Zborowski Interdisciplinary Chair for Holocaust Studies and Research at Yeshiva University in New York City. Eli also endowed the Diana Zborowski Center for the Study of the Aftermath of the Holocaust at Yad Vashem.
Diana stood by Eli's side for 57 years until she passed away in 2004. In 2006, Eli remarried Dr. Elizabeth Mundlak who worked together with Eli to continue his life's mission of Holocaust remembrance and education. Eli was the proud father of two children and seven grandchildren.
Eli passed away at the age of 86 in September, 2012. His kindness, strength, and leadership is missed by all.
Eli's legacy as Founding Chair of the American Society for Yad Vashem will endure forever through the naming of our Legacy Circle in his memory, and through its many future members.